The Perfect Strategy for a Sustainable PLM Solution
When it comes to Industry 4.0, many companies are asking themselves whether their PDM/PLM development continues to be sustainable or whether it has to be restructured to be able to drive the digitalization of their value chains forward. External PLM strategy consulting by experts with experience in the industry makes the definition of your future PLM roadmap and a possible restructuring of the PLM solution much simpler.
Those who are responsible for PLM at larger SMEs are not to be envied, as they currently face a number of challenges. In many cases, they have to modernize their PDM/PLM systems because they are outdated and/or unable to keep up with growing requirements, reducing their business value as a result. Customer demands are also increasing in terms of PLM data quality and upholding the burden of compliance. In many cases, restructuring a company – for example, following a takeover – requires the harmonization of heterogenous PLM system landscapes. However, IT divisions have limited financial and personnel resources. Should they still spend money for PLM strategy consulting on top of everything else?
Absolutely! Drawing upon external know-how provides companies with limited IT resources in particular with greater assurance that the right decisions are being made and the correct priorities set when it comes to the restructuring of PDM/PLM landscapes. One precondition is that the consultants are not only familiar with the user processes but also with IT solutions from different vendors so as to be able to provide their customers with consulting services not bound to a certain IT provider. They should also have a clear picture of how Industry 4.0 will affect development processes and which requirements will in turn result for future PLM development. This orientation is what many SMEs lack, as they are often not entirely sure what Industry 4.0 entails.
A smart, connected factory in the spirit of Industry 4.0 is part of a much wider-ranging digital transformation which affects all the business processes within the company. The drivers of this transformation are smart products which communicate with each other over the Internet of Things (IoT) and thereby enable companies to offer new services and even complete Products-as-a-Service offerings. Developing such smart products not only requires new tools, methods, and processes for smart engineering, but also, generally speaking, a new architecture for the PDM/PLM landscapes.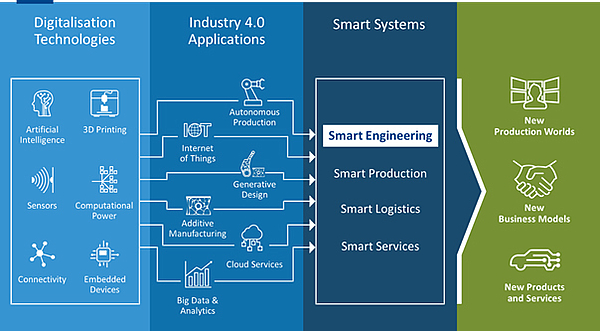 Openness is a core requirement 
A core requirement for sustainable PLM development is openness in the spirit of Code of PLM Openness (CPO), because no system provider can supply all the required components in the necessary quality. At the same time, sustainable PLM development must support the integration of tools and methods for interdisciplinary product development. A crucial element is the integration of requirements management across disciplines in PDM/PLM to be able to trace the requirement over the entire life cycle.
Both, vertical and horizontal integration capacity are important, since more data has to be set in reference to other data for smart engineering than is normally administered by PDM/PLM. Therefore, high-performance integration to the ALM (application lifecycle management) and ERP is required, as is bridging to the IoT platforms on which the sensor data from the product life merges. The major challenge lies in intelligently interlinking all the data in such a way that the product configuration is retraceable for all disciplines in every stage of the product life cycle. That is why a sustainable PLM solution should also support the configuration lifecycle management across disciplines through the option of drawing a baseline for each milestone.
Consequently, any sustainable PLM development must satisfy a number of new requirements to be able to efficiently support the digital transformation of the development processes. But where should a company start with the restructuring of the existing PDM/PLM landscape, and where can the fastest quick wins be achieved? Finding that out is the goal of PLM strategy consulting.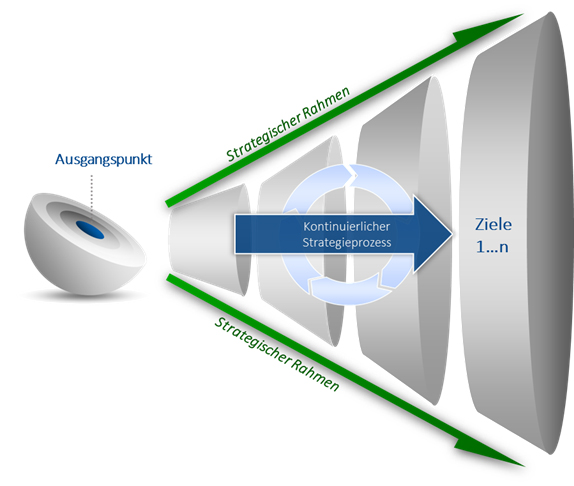 Modular process model for restructuring
During PLM strategy consulting, the first step is to analyze the existing system and process landscape, taking into account market trends and the product strategy of the corresponding company, to develop a comprehensive target concept for the PLM architecture and development and define a PLM roadmap. The consultants should also be able to support the customer in evaluating available solutions (creation of a PLM specification, pre-selection, benchmarks, etc.), as well as to provide management with corresponding recommendations. One crucial aspect is the total cost of ownership, as the costs for operation, maintenance, and updates of the system landscape generally exceed the purchasing costs.Based on experiences gleaned from countless consulting projects, PROSTEP AG has developed a modular process model that is divided into five stages: current state analysis, target conceptualization, evaluation, recommendation, and roll-out planning. PLM strategy consulting can be supplemented by an Industry 4.0 readiness assessment which helps companies to evaluate which potential Industry 4.0 can provide and where they stand in terms of preparing for the challenges of digital transformation. PROSTEP uses a methodical toolkit as the foundation for analyzing Industry 4.0 readiness. This follows the VDMA Industry 4.0 Guideline and also investigates the company's PLM capacities. Therefore, the workshop can be perfectly combined with the current state analysis as part of PLM strategy consulting.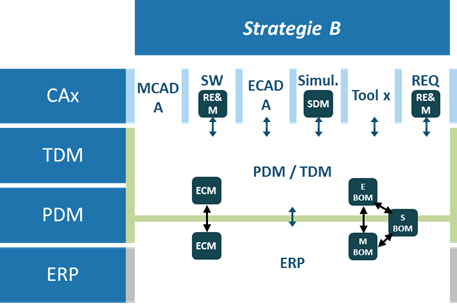 The modular character of the process model allows the customer to combine the components which best correspond to their specific requirements. It could be the case, for example, that the customer does not want complete PLM strategy consulting, but only requires various concept variations to be able to optimize key aspects such as change or parts list management. Comprehensive PLM strategy consulting including benchmarking can take a good six months in some cases. This investment is well worth making, though, as it ensures quicker roll-out.
Original post from PROSTESP AG by Peter Wittkop.